Click to Enlarge
Patrick & Cherie Ranfranz searching for the Coleman Crew and plane on Yap Island, October 2005.


Click to Enlarge


Patrick Ranfranz reviewing an American crash site on Yap Island.

The Missing Air Crew Project and the MissingAirCrew.com Web site is dedicated to the memories of the ten crew members of the Coleman B-24 Crew (13th Air Force, 372nd Bombardment Squadron, 307th Bombardment Group) who were shot down by a Japanese fighter over Yap Island and declared missing on 25 June 1944. My uncle, T/Sgt John R. McCullough, was the Assistant Radio Operator on the missing B-24. Although it's been sixty years since the plane went missing, it's never too late to start the search for the Coleman Crew. The crew should not lie anonymously in the waters near Yap Island. The crew member families need to know where their loved ones lie. 78,000 servicemen from WWII are still missing in action. Their bodies never have been found and their families never have known the peace of closure. My name is Patrick Ranfranz and this site is my vehicle to find out more about the lives and times of the Coleman Crew members and to find the missing plane! read more

Mission Report of 25 June 1944

The Los Negros to Yap mission was a thirteen hour round trip to a heavily defended target without friendly fighter cover.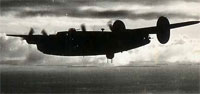 US Report: As part of a formation of B-24 bombers striking at the enemy held stronghold of Yap Island, Aircraft #598 piloted by Lt. Coleman, was attacked by enemy aircraft about a minute and a half after bombs away. Direct hits were scored by the enemy interceptors on #2 and #3 engines. The cockpit and bombardiers compartment were seen with flames coming out of the windows which had been shot out. The plane made a perfect loop, then fell off to the right in a spin and crashed in the water 2 miles South of the runway. They were strafed all the way down and also after hitting the water. No parachutes were seen and it is believed that all members of the crew are dead. read more
Japanese Report: 25JUN: Total of 17 Zekes intercepted these Liberators. Four out of the seventeen were with 202 Ku (Sento 301)(PO1c HAYASHI, Josaku, PO1c OHKUBO, Kotozo, CPO TANAKA, Toshio, Ldg Sea (aviation) KIKI?, Motohiro) The 202 Ku took off at 1040 and returned at 1130. 1 B24 shot over by fighters over water near Yap but witnesses said no survivors. read more
The Coleman Crew:

Please help locate additional information about the Coleman crew to document their life's. Additional information can be submitted to Pat Ranfranz at: pat@missingaircrew.com. Click on the following links to view information collected thus far:


Click to Enlarge


Pat Ranfranz presenting his Missing Air Crew Project at the 307th Bomb Group Reunion in Seattle, WA (August 2006)

Stories, pictures, and documents from veterans or their family members are welcome. We're proud to pay tribute the courageous veterans who reflect on their war experiences. We want to know about veterns experiences during World War II. What unit did you serve with? What was military life like? How did the war affect your family? What did you do and see during the war, and how did it affect you? Sharing information, pictures, and documents is an invaluable way to preserve the history of WWII. Email Pat at: pat@missingaircrew.com
Missing Air Crew Project Updates:


Click to Enlarge


Pat Ranfranz visiting a Hellcat crash site on Yap Island (Sept 2006)

Read my (Patrick Ranfranz's site Developer) weblog updates. My weblog is a journal that is frequently updated and intended to provide the general public with updates regarding my Missing Air Crew project. In addition, my Coleman Crew Overview (PDF File) document and PacificWrecks.com interview provide helpful background information about my Missing Air Crew Project. View All Updates

2005, 2006, 2008, 2009 & 2010 MAC Search Trips to Yap Island:

The Missing Air Crew Project (Pat & Cherie Ranfranz) spent an exhausting week on Yap Island in October 2005 searching for the Coleman B-24. Although we did not find the Coleman B-24 on the first trip (Phase I) we came home feeling like we accomplished a lot during the trip. While on Yap we were going non-stop interviewing Yapese elders, hacking through jungles, crawling through mangrove swamps, and diving the waters around the Yap reef. We returned to Yap in September 2006 with seven people from two other families who lost men in different B-24's over Yap and again in October 2008, August 2009 and July 2010. A number of crash sites have been located since 2005. Please visit the following page to view information and pictures from our Yap Island search trips: MAC SEASRCH TRIP



>


Patrick Ranfranz holds one of the memorial markers created to remember the American men lost over Yap.
I'm pleased to announce a partnership between the Missing Air Crew Project and the Yap Visitors Bureau (YVB). The two organizations have been working together over the last two years to document the history of Yap during World War II. The project goals include creating resources to document and share the history, training the Yap tourism industry on the history, setting up a WWII tour process and to create memorials to remember the lifes lost during WWII. more