Click to Enlarge
Patrick & Cherie Ranfranz searching for the Coleman Crew and plane on Yap Island, October 2005.


Click to Enlarge


Patrick Ranfranz reviewing an American crash site on Yap Island.

Pat Ranfranz founded the Missing Air Crew Project to search for his missing uncle, T/Sgt John R. McCullough . John was one of ten crew members on a B-24 Liberator that was shot down by a Japanese fighter over Yap Island on June 25, 1944. All ten crew members were declared missing in action (MIA) and never located. The plane was piloted by Lt. Gerald Coleman (thus the name the Coleman Crew). The crew was part of the 13th Air Force, 307th Bombardment Group and 372nd Bombardment Squadron. Although Pat and Cherie Ranfranz original project goal was to locate the Coleman Crew, the project has expanded over the years to research, document, memorialize and locate all the American's missing in action near Yap Island. Pat and Cherie have researched and documented the loss of over thirty-five American planes and hundreds of American men. They have located and identified numerous American crash sites and have helped numerous families find some form of closure. Red more.

Coleman Crew Mission Report, June 25, 1944

The Los Negros to Yap mission was a thirteen hour round trip to a heavily defended target without friendly fighter cover.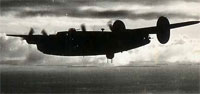 307th Bomb Group Report: As part of a formation of B-24 bombers striking at the enemy held stronghold of Yap Island, Aircraft #598 piloted by Lt. Coleman, was attacked by enemy aircraft about a minute and a half after bombs away. Direct hits were scored by the enemy interceptors on #2 and #3 engines. The cockpit and bombardiers compartment were seen with flames coming out of the windows which had been shot out. The plane made a perfect loop, then fell off to the right in a spin and crashed in the water 2 miles South of the runway. They were strafed all the way down and also after hitting the water. No parachutes were seen and it is believed that all members of the crew are dead. read more
Japanese Report: 25JUN: Total of 17 Zekes intercepted these Liberators. Four out of the seventeen were with 202 Ku (Sento 301)(PO1c HAYASHI, Josaku, PO1c OHKUBO, Kotozo, CPO TANAKA, Toshio, Ldg Sea (aviation) KIKI?, Motohiro) The 202 Ku took off at 1040 and returned at 1130. 1 B24 shot over by fighters over water near Yap but witnesses said no survivors. read more
The Coleman Crew:

Click on the individual crew names below to review the information, documents and pictures that have been located thus far. The goal is to document the life of each crew member so they will not be forgotten. Please submit any additional information to Pat Ranfranz at: pat@missingaircrew.com
Missing Air Crew Project Updates:


Click to Enlarge


Pat Ranfranz visiting a Hellcat crash site on Yap Island (Sept 2006)

A number of channels are used to provide Missing Air Crew Project updates. I post frequent updates on Facebook and YouTube.

Search Trips to Yap Island

Pat and Cherie Ranfranz have organized five search trips to Yap Island since 2005. On each of the trips they have spent exhausting days and weeks interviewing Yapese elders, hacking through jungles, crawling through mangrove swamps, and diving the waters around the Yap reef to locate the hundreds of missing American men from WWII. Although they have not located Pat's uncle's B-24 as of today, they have located and identified numerous American crash sites on land and in the water. In addition, over the years a number families have joined Pat and Cherie on their trips to Yap to find closure to their losses during WWII. Please visit the following pages to view information and pictures from the various Yap Island search trips: MAC SEASRCH TRIPS



>


Patrick Ranfranz holds one of the memorial markers created to remember the American men lost over Yap.
Pat Ranfranz and the Missing Air Crew Project have partnered with the Yap Visitors Bureau (YVB) since 2008 to document the history of Yap during World War II. The project has included creating memorial signs and markers to remember the missing men and planes as well as resources and training for the Yap tourism industry to document the WWII history of the island to share with visitors. View more
Seeking World War II Information, Documents & Pictures relating to Yap Island


Click to Enlarge


Pat Ranfranz presenting his Missing Air Crew Project at the 307th Bomb Group Reunion in Seattle, WA (August 2006)

Please share any Yap Island World War II information, stories, pictures, and documents to help remember the men and the history. We're proud to pay tribute the courageous vets who can reflect on their war experiences. We want to know about veterans experiences related to Yap Island during World War II. Sharing information, pictures, and documents is an invaluable way to preserve the history of WWII. Email Pat Ranfranz at: pat@missingaircrew.com